Product image 1
Product image 2
Product image 3
Product image 4
Product image 5
Product image 6
Created to meet the needs of the modern practitioner on a practice messer. Combining the weight feel and action of period messers in a steel trainer.
Blade length: ~28.5"
Hilt length: ~8"
Overall length: ~37"
Nagel height: ~1.75-2"
Guard width: 5"
Balance point: 1.75"
Weight: ~2.5 pounds
The Messer (knife in German) was a one handed sword with a single edge popular in Northern Europe throughout the Middle Ages. It is considered a core part of the fighting systems found in the Fechtbuchs of the European traditions of swordsmanship. These swords were incredibly versatile, one of the most produced sword types of the period. As depicted in paintings of Peiter Bruegel the Elder, these weapons were carried by soldiers, fighting men and civilians as well. Crafted in a vast array of styles, sizes and levels of quality almost any person of the time would have been familiar with this sword.

Our training messer is developed with the western martial artist in mind. It has been tested in use by several of the leading instructors in this style of combat. Their feedback and suggestions were crucial to creating a steel trainer of exceptional utility. It is quick in the hand and can be used as the original weapons are depicted in period descriptions.

The hilt furniture is steel. The grip material we have chosen is a birch plywood. This creates a strong and durable slab grip for maximum wear. The blade is made of 6150 steel and has a steady taper from hilt to tip. This taper allows the sturdy blade to have a good deal of flex in the last third of the blade.
"The Arms & Armor Messer Trainers are, in my opinion, the absolute best steel messer trainers on the production market. They're lively in the hand, play well in free fencing, and incredibly sturdy. I've handled a number of messers, including antiques, and these feel like the real deal. They're also at a remarkably reasonable price point. If you practice the use of the messer, then this is *THE* training tool for you." 
— Bill Grandy, Director of Historical Programs at Virginia Fencing Academy 

You can see information on the prototypes for this piece here on myArmoury.com 
We also highly recommend this instructional video from Free Lance Academy Press if you are interested in the art of using the messer in period fashion. Clear and concise this is an excellent introduction to the core of the European fighting arts.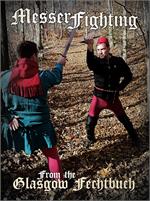 Custom or Modification Request
A&A does a number of custom items each year and we are able to modify some of our stock items as well. Please send us a quick note about what you maybe interested in and we can discuss possibilities and get the process started.
Reviews